MAJOR All-in-One Home Gym Power Rack Raptor F22 - New Arrival
MAJOR All-in-One Home Gym Power Rack Raptor F22 - New Arrival
Sale price

$929.99

Regular price

$1,099.99

Save

$170.00

Unit price

Translation missing: en.accessibility.unit_price_separator
---
Ultimate Fusion of Power and Aesthetics
Perfect for Intermediate to Advanced Users
Enhanced Versatility with 6 Band Pegs
Ultra-stable Structure
Dual Independent Pulley System
17 Height Adjustable Holes
800 lbs Reinforced Safety Arms Capacity
Max Capacity on Pulley System 300 lbs on Each Side
Orders will ship within 2 business days, but the Plate set will be delayed until 12/14.
FREE Shipping on ALL Orders

100% Secure Online Shopping

100% Satisfaction Guaranteed
---
Free Ground Shipping
On All Orders

365 Days Limited Warranty
From Your Delivery Date
Sale Payments
Trusted SSL Protection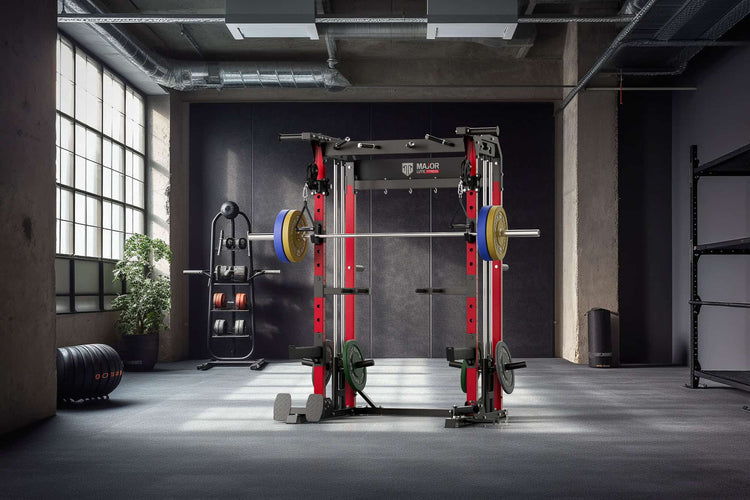 ULTRA-STABLE STRUCTURE
Built with a sturdy 50 X 70mm, 2mm thickness commercial steel frame, the MAJOR LUTIE power rack ensures unrivaled stability. Its innovative triangular base for enhanced stability. Suitable for all fitness levels, providing a reliable platform for diverse training needs.
DUAL PULLEY SYSTEM
The ratio of weight to pull is 2:1, MAJOR LUTIE Pulley System features durable steel-shaft nylon-coated pulleys, and high-strength steel-wrapped cables ensures smooth and uninterrupted operation, providing a durable and resilient fitness experience.
Elevate your training with the MAJOR LUTIE dual interference-free pulley system. Enjoy unmatched versatility as you train with loved ones, transforming your home gym into a dynamic and social workout space.
UNLOCK ENDLESS VERSATILITY FOR VARIED WORKOUTS
Experience abundant exercise possibilities with the MAJOR LUTIE power rack. Equipped with 6 band pegs for functional training, it also comes with a wide range of exercise accessories like safety arms, foot pedals, J-hooks, and more, you can explore endless variations to enhance your workouts!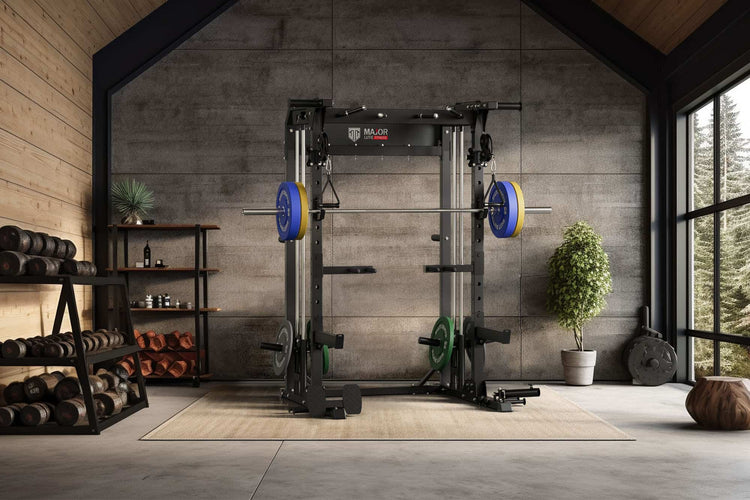 HEAVY-DUTY
Reliable and robust, this equipment supports all fitness enthusiasts in achieving their fitness goals. With its stable platform and thoughtful design, focus on form and technique worry-free.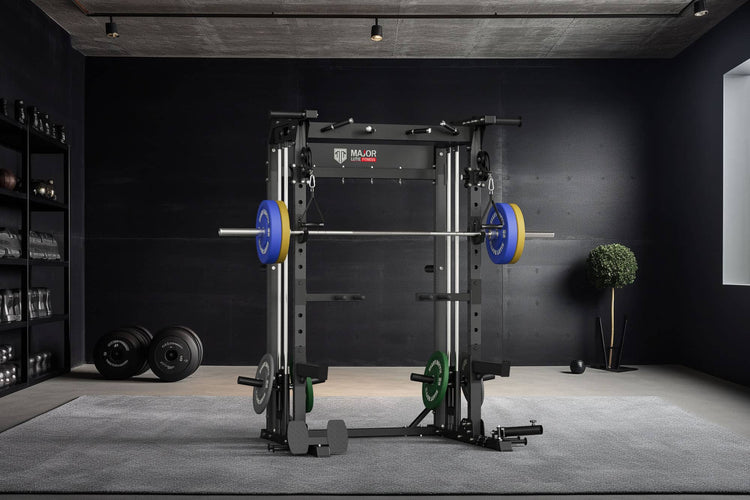 PRECISION MANUFACTURING
Full automatic laser cutting, robotic welding, and robotic painting all under one roof -- ensures a consistent, high-quality product. The rack is made with 50 X 70 mm commercial steel square frame with a thickness of 2mm. Each component is equipped with corresponding inspection tools to ensure tolerances are within the standard range.
POWERFUL AESTHETICS DESIGN
Featuring a captivating aesthetic design that harmonizes functionality and visual allure, the power rack is a true standout. With its dimensions of 55.51"L×68.9"W×82.5"H, it maximizes floor space while delivering an exceptional workout experience for your home gym.