What Is a Power Rack, and Do I Need One in My Home Gym?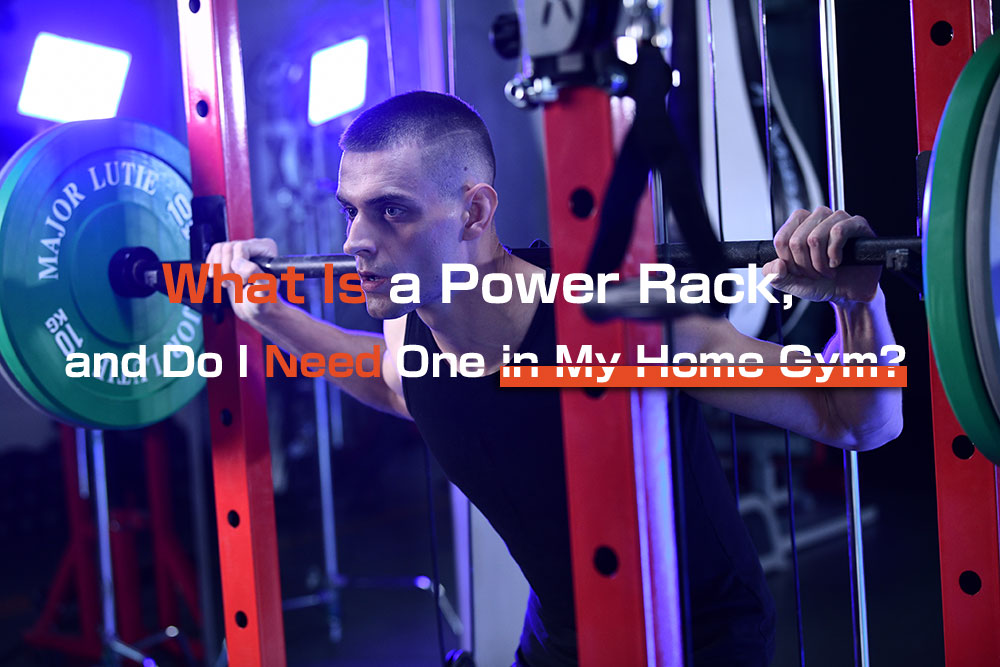 "Rack" or "Squat" 
"No home gym is complete without a power rack." Or that a "power rack is required for genuine improvements." Many home gym owners will tell you this for your home gym set-up suggestion. If you have heard these or similar sentiments. You're also not alone if you've been wondering, "What precisely is a power rack?" The answer to that question is rather straightforward, and we'll get to it in the following words.
Is a power rack required in your home gym? This is a different subject because it is entirely dependent on your fitness objectives. Hopefully, at the end of this post, you'll get the confidently answer of both questions.
What Is A Power Rack?
A power rack is a broad concept of training equipment that is commonly used for barbell workouts as well as free movements. Power racks, often known as "power cages" or "squat cages" are steel cages in which you stand while exercising in your home.
These kind of cages contain horizontal safety bars that can be adjusted to different heights to keep you safe as you work out for your BIG WEIGHTS. Every commercial gym has at least one power rack.This is the general gym standard, so they are usually found anywhere there is squatting. Although squatting is frequently related with power racks, of course they can be used for much more kind of work outs, including:
The majority of these workouts are conventional power lifting routines, and that 's also we amateur always do to get a leap on our best record. Power racks are useful because they mechanically position the lift throughout the movement. This is useful if you work out on your own. It's also useful for tasks where it's hard to notice someone at the beginning.
We all know it's easy to spot someone performing squats or bench presses, but we feel a little more secure knowing there are safety bars around in case I lose control of our weights when there is nobody around.
Power racks are common in commercial gyms, but they are also becoming more popular in home gyms and garage gyms. This is partly because they are becoming less expensive and the overall quality is improving. If you want to choose a power rack for your home gym there is absolutely no need to go for the thousands of dollars of commercial gym equipment and quality that doesn't match the price, in the current market we can find more suitable equipment for home gyms in home gym brands (provided you are not an extreme powerlifter).

Today, power racks sometimes include pull-up bars and the bar handles are also versatile to provide different options for targeting different muscles for your pull-ups, as well as options for adding accessories to other workouts, such as push-ups, pull-downs and rowing exercises. These provide a lot of variety to your home fitness workouts and improve your healthy lifestyle.
Power Rack vs Squat Rack
There is an ongoing debate about the difference between a "power" rack and a "squat" rack, and which one is the better choice for home fitness. Some people confuse the power rack and the squat rack as the same cage-type device mentioned above. In other words, there is no difference between the two except that the words are used differently.
Others prefer the button word interpretation. A power rack is made up of at least four vertical posts and at least two horizontal bars that form a cage that looks larger and more cost effective when you are enclosed in it during use.
There is no "cage" in a deep squat rack; it is simply a stand that holds the barbell at the proper height during a deep squat and can be retracted to the wall to save space when not in use. I couldn't agree more with those who want to differentiate between a squat rack and a power rack, because they are indeed correct in thinking so, and there is indeed a big difference between the two.
Squat racks are often referred to as "half cages" because they are half of a strength cage therefore missing half in functionality. The safety arms on a squat rack may help you discover your limit weight throughout the workout, but of course also possess some amount of limitations.
Which is superior?
On the other hand, the power rack is safer to use - in the cage (especially since we don't have a spotter at home gym), there are full horizontal safety bars on both sides, providing a more comprehensive position. You can change the height of the safety bars to a height that suits your needs depending on the different parts of your workout. Not to mention how much more of an extra workout the power rack provides than the squat rack.

You can change the height of the safety bar to a height that suits your needs depending on the different target muscles you are working out. Not to mention that power racks offer a little more in the way of extra workouts than squat racks.

Power racks can usually support much more weight than a squat rack because the power rack has a much larger maximum weight capacity for different parts of the rack than a squat rack, because no matter how good the materials you use, the four posts are definitely stronger than your half rack weight capacity. The power rack is definitely a better piece of training equipment for weightlifting and strength training. We believe the last thing you want to happen is for your squat or impact PR to be limited by the equipment.

Therefore, if you have enough space and capital reserves in your home gym, there is no need to purchase a low cost squat rack, but rather a more cost effective complete power rack.

Space and budget for fitness are the primary considerations for home gyms. A power rack will take up more space compared to a deep squat rack. Every power rack model is different, so you will need to choose a power rack that fits your space and budget.

A squat rack takes up much less space than a power rack and is much less expensive, but is not desirable relative to the variety of the workout. A good deep squat rack will cost you $200, or even just $100, when that's all you can get out of your fitness experience.
Do I Require A Power Rack?
Now that we have made the difference in the interpretation of the two products, let's discuss whether or not a power rack is needed for a home gym. It really depends on what kind of workout you want to do and your fitness goals.

First, you must determine if you have enough space in your room, basement or yard to place a power rack. This type of fitness equipment takes up a lot of space, but it's probably the most versatile piece of fitness equipment your home gym needs all in one.

A quality power rack will allow you to do a full body strength strengthening workout and fit into your daily training schedule.

Again, going back to the table of exercises that can be done with a power rack mentioned above, it contains examples of exercises you can do with a power rack. This is just an example of a strength workout that can be done without additional components.
What kind of workout do you prefer?
Do you like to lift weights and strength training? If so, then a strength rack would be the most cost effective option! The strength rack is specifically for strength training and only for strength training. The strength rack is specifically designed for strength training.

If you are looking for fat loss and weight loss equipment, a strength rack can still be your choice, because we all know that fat loss and weight loss also need to be combined with sound strength training.

If you want to build muscle, a strength rack may be the ideal choice for you. If you want to practice strength training techniques at home, such as squats, deadlifts or any other movements related with power lifting, you should definitely get a power rack.
Are you looking to add weights to grow more strength without going to the commercial gym? If so, a power rack would be a great addition to your home gym or a garage gym.
Are you looking to add weight to grow more strength? If so, a power rack would be a great addition to your home gym. A power rack provides exactly the exercises you need to gain muscle.
If you are also on a lean fat loss program, a strength frame may be ideal for you. Strength training can help you burn calories and lose weight, and a great piece of cardio equipment is a better choice to go with in a home gym. Depending on the amount of weight training you wish to do, a dumbbell set and a dumbbell bench may be sufficient.
Final Thoughts
I hope we were able to address the question of "what is a power rack" and make the appropriate pair of distinctions with a deep squat rack. We also hope that you have a better idea of whether a power rack is right for your home gym or garage gym. A power rack is a piece of fitness equipment that every home gym "needs".
However, if you want to be able to do your strength and intensity training in the comfort of your own home, power racks are definitely the way to go. They are undoubtedly the safest and most cost-effective way to do squats and other strength training.
A power rack is an great choice if you :
You have enough space for it.
You want to build up your strength and/or mass
You wish to do barbell exercises
A power rack may not be suitable if you:
You dislike weight lifting.
You are more interested in losing weight and remaining thin.
You are more like to do exercise with your cardio.
If you already know what kind of power rack is right for your home gym, you can read my Power Rack Buyer's Guide to learn more about the best options this year.
We hope you find this information helpful in building your private gym. If you have any other questions or would like to contribute something, please leave a comment below and we will respond as soon as possible.